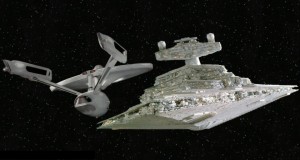 Kirk & Spock or Luke & Han? USS Enterprise or a Star Destroyer? Klingon or Wookie? Borg or Sith? Darth Vader or Khan Noonien Singh?  Vulcan mind meld or Jedi mind trick?
The time has come to choose a side: #TeamStarTrek and #TeamStarWars. The answer — or, at least, the Louisville Digital Association's  reckless attempt to reach one — will support Apple Patch in their efforts to provide therapeutic iPads for autistic adults.
This April 18, in association with the Mayor's Give A Day service week, the LDA is harnessing the power of the Trekkies vs. Jedi geek rivalry to raise funds for ApplePatch's iPad project. Just go to one of two Amazon wishlists — #TeamStarTrek or #TeamStarWars — where you can purchase iPads, accessories or Amazon gift cards to gear up the Apple Patch crew. Whichever sci-fi franchise delivers the most tech (or tech-equivalent cash) by 5pm on April 18 will earn annual bragging rights over their fellow geeks.
But wait, there's more. From 9am to 5pm on April 18, the LDA is challenging geeks of all persuasions to spread the word about the Apple Patch fundraiser with a galaxy-sized social media blitz. Transmit the donation links (and their associated hashtags and smack talk) via Facebook, Google+, Twitter, LinkedIn, e-mail, blogs, holonet, subspace radio and/or telepathic mindblast — whatever it takes to make the masses aware of our cause.
A victory party at Vint Coffee Holiday Manor awaits the winners from 6-9pm. A consolation party (awkwardly also at at Vint Coffee Holiday Manor) and a year of friendly mockery awaits the runners-up. April 18 will determine which side you're on. Get ready.

May the Force be with you. Live long and prosper. Be there or be square.