Native Advertising Institute's Chad Pollitt Featured at LDA's May Gathering
What is Native Advertising and how can your brand benefit from leveraging it? Who better to answer that question and teach us all about the past, present and future of Native Advertising than Chad Pollitt, partner and vice-president of audience for the Native Advertising Institute?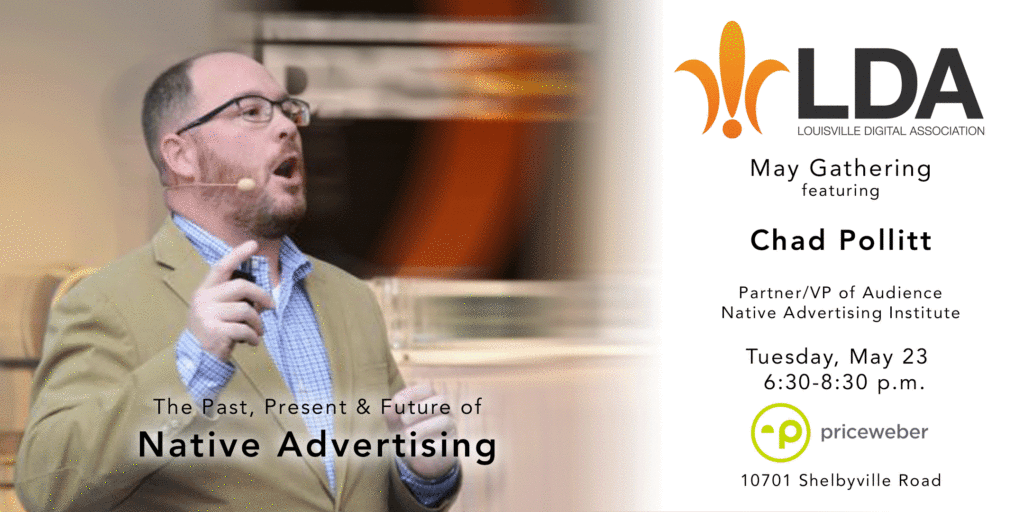 Pollitt will be the featured speaker at the Louisville Digital Association's May gathering, Tuesday, May 23, 2017 from 6:30 p.m. until 8:30 p.m. at PriceWeber (10701 Shelbyville Road in Louisville). His presentation will explore native advertising's timeline of existence, while postulating its future from a content marketing perspective.
Register to attend for free in the ticket form below!
Pollitt is a decorated veteran of Operation Iraqi Freedom and a former U.S. Army commander. He also serves as an adjunct professor of internet marketing at the Indiana University Kelley School of Business and an adjunct instructor of content marketing at Rutgers University Business School. His role at the Native Advertising Institute puts him atop a global think tank dedicated to advancing native advertising as an industry.
Pollitt's talk will look at the mistakes of the past and present to help audience members maximize outputs from their own native advertising and look at the trends we need to watch for as the industry evolves.
The event is one of the Louisville Digital Association's regular monthly gatherings which are typically free or low-charge events to help educate and inspire the digital community of Louisville and Southern Indiana. The May gathering is sponsored by our host, PriceWeber, an innovative marketing agency with a long list of successful digital marketing campaigns and strategies for worldwide clients.
This event is free, open to anyone and light hors d'ouvres and beverages will be served.