Fark.com Founder Curtis to Preview Technology Disruption Book at June LDA Event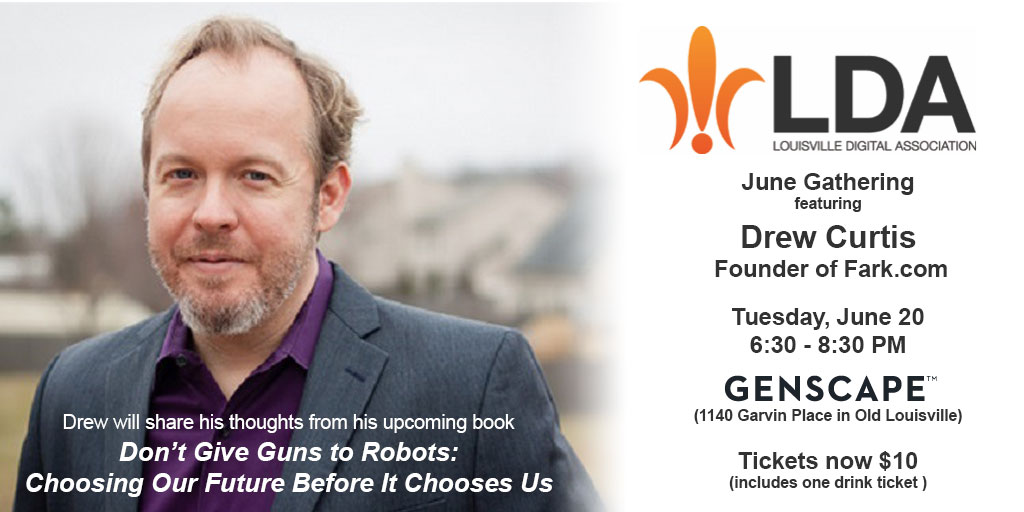 What's the next disruptor in the technology space? It may not be Fark.com, but its founder, Drew Curtis, has ideas on what will. Curtis, who tried his own hand at disruption as an independent candidate for Governor of Kentucky in 2015, will share thoughts from his upcoming book Don't Give Guns to Robots: Choosing Our Future Before It Chooses Us at the Louisville Digital Association's gathering on June 20.
The event, which will feature hors d'oeuvres and a cash bar, will be 6:30 p.m. until 8:30 p.m. at GenScape (1140 Garvin Place in Old Louisville) Tickets are $10 and will include pizza and one drink ticket. (Buy yours below.)
Curtis is a widely respected media critic and technology influencer. Fark.com ushered in the era of social news and link aggregation when it sprung to life in the late 1990s. The site was the first independent blog to earn over $1 million per year. A keen curator of popular culture, Curtis parlayed his media criticism into his first book: It's Not News, It's Fark: How Mass Media Tries to Pass Off Crap as News in 2007 – a decade before "fake news" became a mainstream concern.
His current book project focuses on near-term technology disruptions and what we can expect from the world around us in the coming years. It is slated to be published in the spring of 2018.